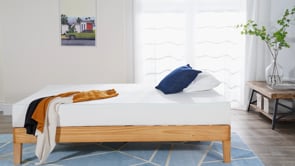 Originally from US, Zinus is founded by Mr. Lee Yoon-Jae, who started his business making tents some 30 years ago. He introduced an innovative tent compression technology which significantly cut down heavy logistics costs. This innovative technology was then introduced to mattresses, reducing their sizes for easy shipping and transportation, which in turn reduces logistic costs. These savings are in turn passed on to the consumer.
Over the years, they have researched and developed many more successful product lines. Because of their creative innovation and the way they defy the traditional image of mattresses as a heavy and bulky item, Zinus has since reached the top of global online sales for mattresses and is also a top seller on Amazon. In fact, the World's First Mattress-In-A-Box is born in Zinus!
Feel safer when you buy a Zinus mattress as they use only Natural Seed Oil for their memory foam production instead of petrol-based chemical oils. Zinus mattresses also meet the stringent recommended radon safety levels (Korean Safety Standards), which is especially important for those who suffer from allergies. Their products are also CertiPUR-US certified, meeting the requirements for durability, performance, emissions, and environmental stewardship standards.
As testament to their confidence in their products, Zinus provides a 100-Day Free Trial for their mattresses. This includes spring mattresses, cooling mattresses and hybrid mattresses. In the rare case where you are not 100% satisfied, simply inform them within 100 days from the day you received your product and the Zinus staff will take care of the rest.
In Short, Zinus represents quality and affordability.
Our Accolades:
• World's #1 Online Mattress & Furniture Brand
• World's Largest Mattress-In-A-Box Manufacturer
• Over 1,000,000 Global Reviews
• Verified Brand With Global Ratings Of 4.5 Stars
• More Than 260 Innovative Patents And Trademarks
• Served More Than 18 million Sleepers And Sitters In Over 15 Countries
• 25 million mattresses sold globally (as at Jun 2022)
• Specialises In Producing Innovative BioFoam Infused with Natural Ingredients